Carroll County gives you comfortable, convenient living with easy access to regional opportunities.  It is made up of seven municipalities each with a unique and distinct personality and lifestyle with diverse housing options.  In less than an hour's drive, you can find yourself at Atlanta or in the other direction Birmingham, Alabama with lots of wonderful points of interest in between.  From tranquil countryside to the excitement of vibrant, revitalized downtown areas, Carroll County is a great place to live with something to offer everyone.  
Here you have the choice of living where you work, with several local employers recognized as best places to work by organizations likes Forbes, Georgia Trend, Atlanta Journal & Constitution and the Atlanta Business Chronicle.  Our region offers many varied job opportunities for you and your family. Check out this list on the major employers in Carroll County here.  You may be surprised at the amenities in our area, but be assured to note we still are proud of our Southern roots and will always find time to nod to our neighbors and to welcome visitors with open arms.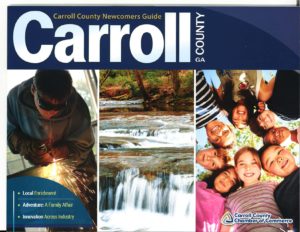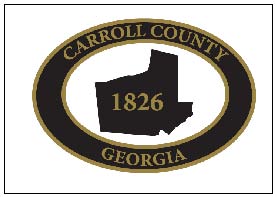 Carroll County is a great, quaint county east of Atlanta. There are a lot of job opportunities between Tanner Health and Southwire Company as well as 2 robust colleges (University of West Georgia and West Georgia Technical College) located here and wonderful city and county school systems. Carroll County has been home to many prominent people. Roy Richards, founder of Southwire; actress Susan Hayward and Newt Gingrich.
Small town, great schools and the community is like a big family. Mt. Zion is a safe, lovely little town on the outskirts of Carrollton and although it feels like a taste of deep country, you can access I-20 in about 6 minutes. An annual Founder's Day Festival is held the first weekend in October each year with lots of food, crafts and fun. An active senior center is open Monday – Thursday each week from 9:30 am – 2:30 pm and Bingo on Tuesdays and Thursdays at 11:00 am.
The City of Villa Rica is home to the Georgia's Forgotten Gold Rush of 1826 as wall as being home to Coca Cola's legend Asa Candler and the father of gospel music Thomas A. Dorsey. A nationally accredited Main Street program, Villa Rica's downtown area maintains a nice assortment of restaurants and unique shops for residents and visitors alike. Villa Rica maintains a diverse manufacturing and distribution base with its close proximity to I-20 including Printpack, Sugar Foods, International Component Repair and Southwire.
Located about an hour west of Atlanta, Carrollton is a thriving college town with big appeal. There is an ample amount of amenities and things to do and lovely locally-owned restaurants and shops within walking distance or a short drive. The public schools in Carrollton are highly rated. Carrollton is well known for its diverse live music tradition, and boasts one of the largest paved loops used for walking and bicycling called the Carrollton Greenbelt as well as one of the state's best disc golf course at Hobb's Park.
Roopville is a town with a population of 225. Living in Roopville offers residents a rural feel and most residents own their homes. Chartered in 1885 and named after John King Roop, son of Martin Roop who was head of the town's first family.The public schools in Roopville are above average. Every 3rd Saturday in September the town hosts the Roopville Homecoming Festival. No website or Facebook page – Phone: (770) 854-7977. Mondays from 9 am until noon
The City of Whitesburg is a very small community on the south side of Carroll County with two local parks (McIntosh and Moore's Bridge) that individuals are able to walk, ride horses, kayak and camp. Whitesburg is also home to Historic Banning Mills, an over 80 acre facility that with lots of amenities but is best known for its world class zip line canopy tours. Several restaurants downtown including Subway and Mojave Hot Wings.
No website or Facebook page.
Phone: (770) 834-0848
The City of Bowdon is located approximately 10 miles south of I-2 corridor. The community was named for Franklin Welch Bowdon, Alabama congressman in 1853. Bowdon is known as "The Friendly City." The downtown area is home to several restaurants, a speciality coffee roaster, an art gallery and a veterinary hospital.
The thriving Temple Industrial Park is home to Janus International and Royal Metals, which combined, employ more than 500 people. Active recreation department and refurbished recreation complex, the City of Temple boasts affordable living and is ranked one of Georgia's safest cities. Temple's Founder's Day Festival is held in September each year as residents and guests pay homage to Temple's past and future.
"A true community is one that finds a way to connect its challenges to solutions. While this does not happen overnight and will always be ongoing, I am proud to be a part of a community that is striving to find the right connections."